Product Description
The HANS® Pro Series Model. Impact carries this product in 4 different sizes/variations. All come with the Post Anchor system, which is the anchor system that most people are used to already. The anchors are bolted to the helmet, and the Hans tethers attach the Hans to the helmet, and the Hans can be separated from the helmet easily. This allows the driver to put the Hans on while still in the car if desired.
Features

Hand made with high modulus carbon fiber.

Hollow core reduces weight.

Weighs about 1 pound - the lightest HANS Device.

Top choice in Formula 1 and NASCAR.
General HANS FAQ
Deciding on the Correct Angle and Size of HANS Device.
It's easy to choose the right HANS Device for you. First choose the angle that matches your car, then choose the size (small, medium or large) most comfortable for your body.
In all cases driver comfort is the deciding factor.

SEATBACK ANGLE
Model 10 - Extreme Upright Seat


Fits many Sprint cars. Fits many people weighing under 75 lbs. in an upright seat. If you sit very upright and cannot get comfortable with a Model 20 try this Model.

Model 20 - Upright Seat
Fits all sedans including NASCAR, Busch, Sprint, Midget, Quarter Midget, Drag, Modified, Bandalero and similar. All sportscars including Porsche, BMW, Corvette, Honda, Viper etc. All Panoz Racing Series cars. Marine applications including UIM and Drag Boats. NOTE: Driver over 200lbs. may find a Model 30 more comfortable in the vehicles listed above.
Model 30 - Semi-Reclined Seat


Fits Formula Mazda, Atlantic, Infiniti Pro, Barber Dodge, IRL, C/D Sports Racer, Formula 1 and similar.

Model 40 - Reclined Seat


The Model 40 is a rare application and fits extremely reclined seats such as Vintage Formula Ford and Bonneville cars. Please measure your seat (use an angle meter available at DIY-type stores) before ordering.



DEVICE SIZING


See chart below to determine which HANS Device fits you.

Due to differences in torso shapes, it is difficult to predict exact fitments.

You may find that several HANS Devices fit your body - choose the most comfortable one.

All HANS Devices work exactly the same no matter which size you choose.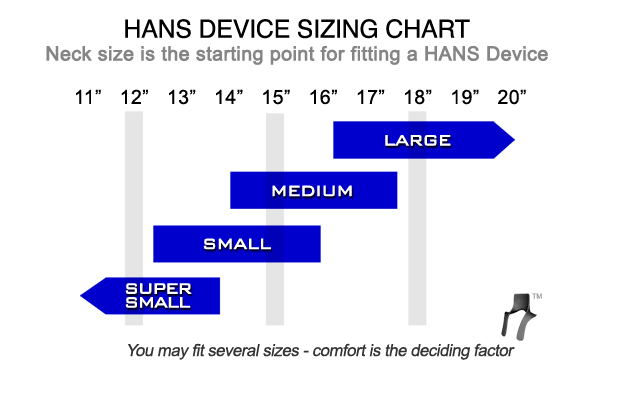 Other Details
MFG. Warranty
Product Videos
Custom Field
Product Reviews
You May Also Like...